Leicester City have won their first ever Premier League title in one of the best sporting stories ever. Tottenham Hotspur's 2-2 draw against Chelsea at Stamford Bridge on Monday night confirmed a remarkable success for Claudio Ranieri's team. Leicester City hardly survived from relegation in the last season. But they have lost only three Premier League games in this season which has been depicted as a "fairytale" and the "most improbable success ever".
Nearest rivals Tottenham, Arsenal, Man City, Man Utd and the defending champions Chelsea, have all failed to compete with the consistency of Leicester throughout the season. Former Foxes, Everton and England forward Gary Lineker called his hometown team's success as "the biggest sporting shock of my lifetime". He had proposed the Leicester City players were on the "edge of sporting immortality" a month ago.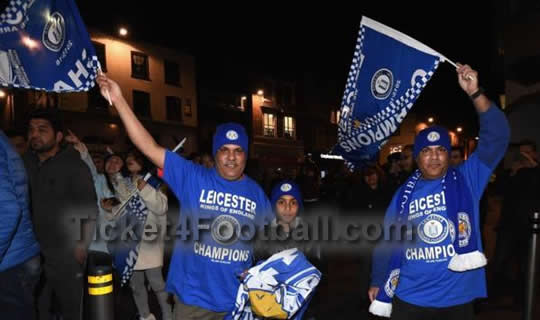 Lineker said: I cannot consider anything that lefts behind it in the history of sports. It is hard to describe it in words. "I got enthusiastic. It was difficult to relax. I was a season ticket holder from the age of seven. This is really unthinkable," he added. After Leicester City's 1-1 draw against Manchester United at Old Trafford on Sunday, it is necessary for Spurs to win their remaining all three league matches to catch the Foxes. But their title hopes were finished when they wasted a 2-0 first half lead to just draw at London opponents Chelsea.
Former Newcastle United, Blackburn Rovers and England forward Alan Shearer said Leicester City's success was "the greatest thing in the history of football". Shearer, who was a part of Premier League title winning team Blackburn in 1995, said: "For a team like Leicester City to come and take the giants on with their riches and expertise – go up against them as well as to beat them – I believe it is the greatest thing to occur in football." FIFA president Gianni Infantino said Leicester's "wonderful story" was a "fairytale".