Manchester United reduced the stress on boss Louis van Gaal by thrashing Derby County by 3-1 in the FA Cup 4th round. Van Gaal disagreed with the statements that he offered to step down after losing to Southampton on Saturday, and his team were better than Derby. Wayne Rooney opened the scoring with curling shot from 20 yards and gave lead to United in the 16th minute. Then just after 20 minutes George Thorne levelled the scores in the 37th minutes.
In the 20th minute of second half, Daley Blind again put United ahead from Jesse Lingard's cross shot and then Juan Mata confirmed victory in the 83rd minute. Derby, who are winless in 2016 and stand at fifth place on the championship points table, created problems in the end of the first half when Thorne latched on to Chris Martin's wonderful through football. But on the other hand, it was a really important and confidence-boosting victory for Van Gaal's team who, after not winning a single game in December, have also lost once in January and got a two-goal win for the first time in 15 matches.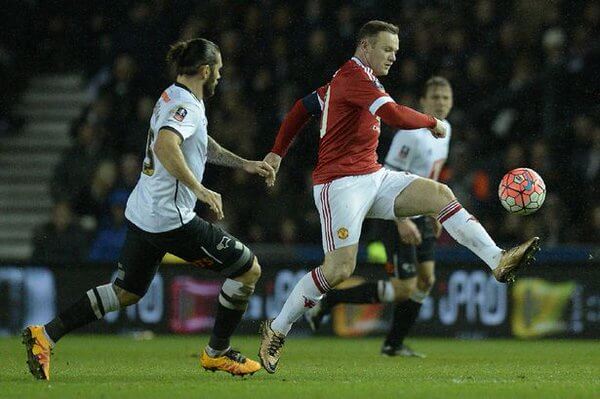 It has been a tough week for Van Gaal, who has trained his fire on the media and sarcastically said defeat by Derby might cost him his job for a 4th time this season. But in the first 30 minutes and after the break, United played much confidently that has been missing from some last months. Buoyed by more than 5,000 away fans, much of United's perfection centred around Anthony Martial, who taken some of his early season form with a fantastic performance.
Positioned on the left side, the 20-year-old created problems for Derby right-back Cyrus Christie and capped an effervescent display when he set up Mata for the last goal after skipping through the host's defence. With better management, the Frenchman could have scored on both sides of Rooney's clinical finish. Although the Manchester United forward showed up offside when he collected the ball, he converted inside before discovering the top corner to go within six of Sir Bobby Charlton's club record 249 objectives.