Two second half goals from Barcelona star Lionel Messi helped the Spanish champions to beat Arsenal by 2-0 in their Champions League last-16 first leg game at Emirates Stadium. Messi efficiently condemned the Gunners to a sixth consecutive departure from the last-16 round of the Champions League. Arsene Wenger side fought courageously to provide themselves the opportunity going into the second leg at the Nou Camp in three weeks' time – but experienced at the hands of Barcelona's group of three Messi, Neymar and Luis Suarez.
Messi scored his first goal against goalkeeper Petr Cech at the seventh effort when he rounded off an intense counter-attack including Suarez and Neymar to sweep home a finish after 71 minutes. Before Messi's opener Alex Oxlade-Chamberlain and Olivier Giroud had the opportunity to score for the hosts, but they were unable to do their job. And Arsenal went into more trouble just before seven minutes from end time when their substitute Mathieu Flamini floored Messi with a badly timed challenge and he got up to send Cech the incorrect way from the spot.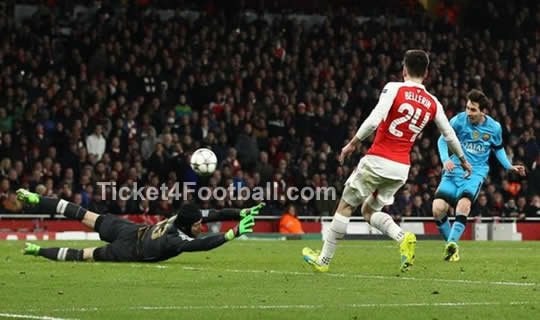 The two goals on Tuesday night were Messi's seventh and eighth against Arsenal in the Champions League. Suarez hit the post and Cech saved from Neymar as Barcelona took control – but this game already seems well out of Gunners' approach. Barcelona knocked them out in 2010 and 2011 and that was after a draw and a victory at Emirates Stadium – so their possibilities can be all but cancelled after this defeat.
Barcelona are "95% through" to the Champions League quarter-finals, says Arsenal boss Arsene Wenger. The Frenchman held responsible his side's ending and naivety for the home defeat. "The way we ended our possibilities is a trouble. I felt in the final third we lost something," said Wenger. "Barcelona are 95% in the quarter-finals but we want to go there and perform. We will not go there and have completely no chance," he included.