Adam Lallana was born on May 10th, 1988 in St Albans. At the age of five, Lallana moved to Bournemouth and spent his early years playing for Bournemouth's youth team, before moving on to play for Southampton's Youth Academy in early 2000 at the age of only 12. He played for the youth squad cup for two seasons, 2004 to 05 and 2005 to 06. In 2005 they reached the final, and the semi final in 2006. He became a professional footballer in 2006 and was transferred back to Bournemouth F.C.
After a short period playing for them, he then went back to play as a midfielder for Southampton on their first team helping them to climb the league table and to enter the Premiership League. His role in the club's success earned him the title of team captain back in 2012. He enjoyed two successful seasons playing for Southampton before transferring to Liverpool F.C in the summer of 2014 that allegedly cost £25 million.
International Career Success
Adam Lallana has had a very successful footballing career. He made his international debut back in 2013 and has made an impressive twenty plus appearances for the England team. In 2014 he reached the shortlist of the prestigious PFA Player of the Year Award and went on to win alongside his fellow team mates, the Team of the Year award. He also won the great honour of becoming the Fans' Player of the year. As well as playing in the FIFA World Cup of 2014, he also played in the UEFA European Championship in 2016.
Adam Lallana's Career at Liverpool F.C.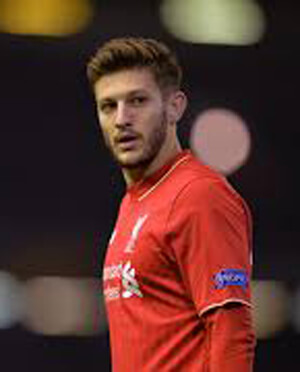 Lallana joined Liverpool F.C. as a midfielder in the summer of 2014. During these early years with Liverpool, he also rose in the ranks to become an England international player. He joined Liverpool following the 2014 World Cup and proudly wore the number '20' shirt, the same number that he wore when playing for Southampton. During his first season for the team, he suffered a knee injury while training in Massachusetts and was therefore rested for 6 weeks, meaning that he missed the start of the Premier season. He therefore made his debut for the team on September 13th, playing against Aston Villa that ended in a 1-0 victory to Liverpool. He scored his first goal for Liverpool during the match against West Bromwich Albion on October 4th, with his second being against Leicester City in December, that gained them a win of 3-1.
In his 2015-2016 season with the club he scored the first goal of the Europa League against Bordeaux, in which the team drew 1-1. It was in January that he helped to secure a win against Norwich City when brought on during the second half, Liverpool won 5-4. In March he scored and helped Liverpool win their match against Man City, securing a 3-0 home victory.