James Milner was born in Leeds on January 4th, 1986. As a professional football player he has played for many national and international football teams including; Manchester City, Aston Villa and Leeds United. Today Milner plays as a left back and mid fielder for the Premiership club team Liverpool F.C.
James Milner's Early years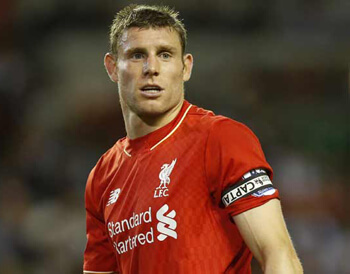 As a young boy, Milner enjoyed playing cricket, football and competing in long distance running events. While growing up he was an avid supporter of Leeds United F.C. and eventually joined the team's youth academy at the age of 10. He eventually made his debut for the team at the tender age of 16 in which he was to become the youngest individual ever to score during a Premier League match. He had replaced an injured Jason Wilcox when playing against West Ham United in 2002.
Time at Leeds United and Newcastle
While playing for Leeds United, Milner was also on loan to Swindon Town, so that he could gain further experience in playing for a first team. It was while playing for his beloved Leeds that he was sold to Newcastle United, as a result of the club being relegated in 2004. Following his short stay at Newcastle United, he then transferred to Manchester City. While at Newcastle he made over 100 match appearances and played in both the 2010 FIFA World Cup and in the 2012 UEFA Euro Cup.
Playing for Man City
James Milner transferred to Man City in the summer of 2010. He scored his first goal for the club in the third round of the FA Cup against Leicester City, that resulted in a draw and which eventually led Man City to reach the FA Cup Final in 2011. His first ever Premiership goal for the club was against Everton in September the same year, and he scored his second goal against his former club, Aston Villa, that helped to secure a 4-1 victory.
Playing for Liverpool
Milner began his career at Liverpool F.C. in the summer of 2015. His contract with Man City had expired and he was able to make the move via a free transfer in order to play for the world renowned club. In August of the same year he was announced as the team's Vice Captain. During his first season with the Reds he scored an impressive 7 goals and helped to secure 14 victories. In his very first match for Liverpool, he also helped to secure a win against Stoke City with a 1–0 win. He obtained his first Cap for the club in September 2015 and scored his first goal for the club during the match against Aston Vila at Anfield, which ended in a 3–2 win. During his first season with the Reds, he scored an impressive 10 goals.
Save
Save
Save
Save