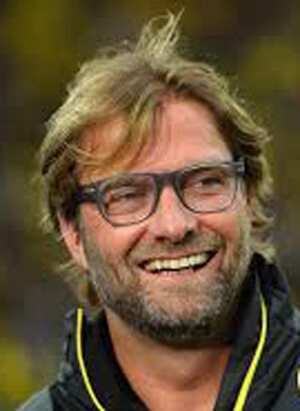 Jurgen Klopp has always been known as a character. Not only does he have great hair, a big smile and appeals to the mums, he's a stand out manager, by all accounts, especially at a time when the previous "best" of the Premiership's management have retired (Sir Alex Ferguson), or gone up North and failed to fulfil expectations (Jose Mourinho). And let's not drag the England Manager debacle up.
Klopp's rapport with players, in a previously somewhat mixed up, dejected squad, appears brilliant. The Corporation-side of Liverpool Football Club has gone through a rough few years, with damage caused by Gillett and Hicks. King Kenny was sacked, which was basically treason in most fans' eyes. Numerous players were lost along the way and the club stats struggled. All seemed improved with the takeover by Fenway and introduction of Brendan Rogers. Then, that slip against Chelsea, (which will likely haunt Stevie G until his dying day) and Brendan struggled to meet expectations.
Then… along comes Klopp, following success with Borussia Dortmund (back-to-back Bundesliga titles (2011 and 2012), a couple of trophies and a Champions League Final). It's fair to say expectations were similarly high for the German. However, it's also fair to say there was some unhappiness surrounding Rogers' sacking, with many fans seeing it as too soon in the 2015-16 season.
Klopp has served just over a year at Liverpool, joining in October 2015. Already, it seems that the players, Board, fans and media are all aboard the Klopp train. He's a vocal presence from pitch side, inspiring players, young or established to give more and do better. The relationships he has with players is clear to see during training and in the bear hugs he gives players after a decent performance. He certainly doesn't lack passion for the game or club (or fancy dress karaoke if the Christmas party pictures are to be believed!).
It seems Klopp is a modern-day, reinvented Ferguson, promoting passion and a drive to achieve the best, all without the rumoured "Fergie reign of terror" over players and officials. Any dislike of Klopp certainly doesn't come from an opinion of his personality – it is more likely to be a case of the green eyed monster if there is any resentment towards him.
Indeed, the media are big Klopp fans. The teeth, Harry Potter glasses, accent and seemingly innocent yet quick witted sense of humour makes him ideal for headlines and soundbites. They lap him up and he makes great television, regardless of the result. When it comes to results, however, he's doing well, with Liverpool joint on points for the top spot, underneath Manchester City and Arsenal on goal difference. So it seems that as well as being a good guy, he does know what he's talking about. His quips and quirks just add to that package and appeal.
It's an exciting time for Liverpool and Klopp. Despite his past successes and accomplishments, helping Liverpool achieve the oh-so-coveted Premiership title would be epic. To achieve that, must mean he would join the likes of Shankly and Paisley in the all time greats hall of fame. Could Klopp be what Liverpool need to finally lift that trophy? The Red side of Liverpool and many others around the World are feeling "Klopptimistic".
Save
Save