A Liverpool Legend
Brazilian Philippe Coutinho is widely regarded as one of the best playmaking midfielders in the world. Despite his young age, his career has already earned him high praise and awards around the world.
Early Career
Philippe Coutinho started his footballing career at Vasco Da Gama in Rio de Janeiro. As part of youth system there he quickly came to the attention of those from future afield highlighted by him being called up to represent the Brazilian national team from Under 14 level. Active interest from Europe soon followed and he signed for Inter Milan in 2008. Coutinho stayed on loan with Vasco Da Gama until 2010.
Time in Europe
Arriving at Inter Milan during the summer of 2010 under the stewardship of former Liverpool manager Rafa Benitez, Coutinho was called straight in to action and made his debut in the UEFA Super Cup defeat against Athletico Madrid. Following a struggle with injuries and selection issues, Coutinho joined Spanish side Espanyol in January 2012. The loan spell was a success, with Coutinho netting 5 goals in 16 appearances for the Barcelona based side.
Move To Liverpool
January 2013 saw Phillipe Coutinho make the big move to Liverpool. Donning the number 10 shirt for the first time as a substitute against West Bromwich Albion, Coutinho's full debut came the following weekend. During the game Coutinho scored his first goal for his new club in a memorable 5-0 victory over Swansea City. The remainder of the 2012/13 season continued with impressive performances from Coutinho. Man of the match awards, numerous assists and 3 goals from his 13 appearances all meant Coutinho had already made himself a firm favourite at Anfield.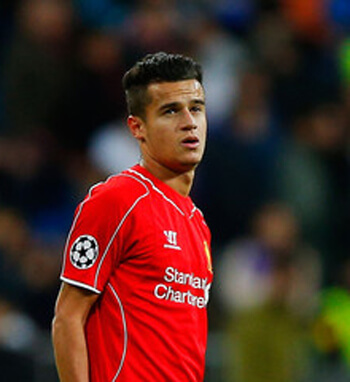 The 2013/14 season saw Liverpool finish second in the Premier League thanks in part to Coutinho's contribution. Although missing for several weeks early in the season he made a return in time for the iconic Merseyside derby. Coutinho scored his first goal against Everton in this fixture to further add to his legendary status in the Kop.
During the following season Coutinho's performances continued to impress. This resulted in a new contract being agreed which keeps him at Anfield until 2020. The end of the season saw Coutinho being nominated for a raft of awards and was included in the PFA Team Of The Year. 2015 continued to get better for Coutinho as he netted his first goal for the Brazil senior team, scoring against Mexico in a 2-0 victory.
Coutinho's importance to the Liverpool team has grown under manager Jurgen Klopp. Silverware has come agonisingly close too, with Coutinho scoring the equaliser in Liverpool's League Cup Final against Manchester City before losing on penalties. He also scored twice in Liverpool's 4-3 famous victory over Borussia Dortmund to book them a place in the Europa League final where they lost to Seville.
Such performances in the big games and consistent performances during the season has made Coutinho a legend at Anfield.