Saul Niguez's brilliant solo goal put Atletico Madrid ahead in their Champions League semi-final against German giants Bayern Munich. The Spanish side beat Bundesliga leaders by 1-0 in the first leg game at the Vicente Calderon Stadium in Madrid. Niguez jinked past a grasp of Bayern defensive players before curling into the corner in 11th-minute of the match, giving the hosts a slender first-leg lead to take to Germany. Bayern Munich ruled the second half, David Alaba hitting the bar from 35 yards and Arturo Vidal's shot was saved in the centre of the goal.
Fernando Torres jabbed against the post in an uncommon counter as Atletico Madrid held on. Both sides will meet again in the second leg at Bayern's Allianz Arena on Tuesday, and the winning team will face Manchester City or Real Madrid in the final on 28 May in Milan. Atletico Madrid have never been won the Europe's elite football club competition, whereas they the runner-up of the tournament at two occasions.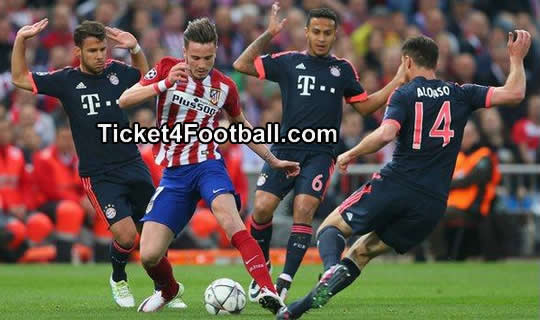 Under the management of Diego Simeone, Los Rojiblancos have appeared as genuine contenders to Spain's consistent duopoly of Barcelona and Real Madrid and have now placed themselves in a satisfactory position to make history by winning the Champions League. With Bayern Munich bragging a wonderful home record of only one defeat in 24 games, the tie is a long way from being done. But Niguez augmented the Spanish title-pursuing side's own great structure at a rowdy Vicente Calderon Stadium.
The 21-year-old midfielder got the ball around 35 yards from goal, moving through feeble resistance from visitors trio Thiago Alcantara, Juan Bernat and Xabi Alonso, then keeping his poise to control the ball into the bottom corner. Most of Atletico's triumph under Simeone has been based on defensive elasticity, with his well-structured side conceding only five goals in Champions League this season. Atletico Madrid had likewise kept clean sheets in their last four La Liga matches but confronted Bayern Munich without defensive lynchpin Diego Godin.