Liverpool took the control of their Europa League round of 16 first leg game as they beat poor Manchester United by 2-0 at Anfield on Thursday night. Jurgen Klopp's men were dominant in this first European game between the two Premier League giants – and the only frustration for German manager will be that the game is not already settled. Daniel Sturridge was the man who put Liverpool ahead in the 20th minute by scoring a goal on penalty spot after Memphis Depay fouled Nathaniel Clyne. Later Roberto Firmino doubled their lead with a header from close range when 17 minutes were remaining.
Manchester United did not produce a single chance and only the extra ordinary performance of goalkeeper David de Gea has kept Liverpool in range as he created a sequence of impressive saves. Liverpool have the destiny of this game in their own hands now – and Manchester United lovers might have been trying to offload their tickets for next week's second leg if it was not for the exceptional De Gea. The Spain international was world-class and it was only his continuous interferences that kept Liverpool's lead anywhere near controllable for Louis van Gaal's team.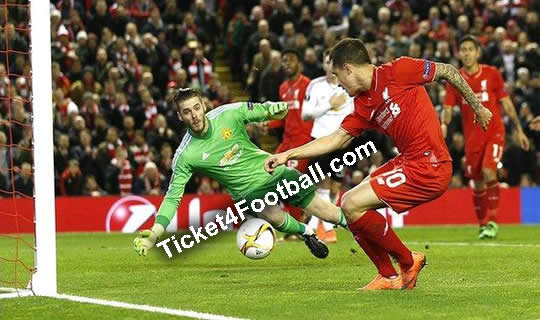 De Gea saved superbly at the far post from Coutinho in the first half when many would have given up and showed brilliant athleticism to keep out the Brazilian in front of The Kop in the second half. He also blocked Sturridge when Chris Smalling missed a simple defensive header in Liverpool's opening surge and demonstrated his reflexes to stop Adam Lallana, as well as punching away Nathaniel Clyne's powerful drive after the break.
In other words, the only reason United have any interest in that second game at Old Trafford is because of De Gea – and if they somehow pull this around it will be down to this virtuoso display. Liverpool's next match is the second leg at Old Trafford on Thursday, 17 March, while Manchester United host West Ham in the FA Cup quarter-finals on Sunday.
Curated from Liverpool 2-0 Manchester United – BBC Sport