Manchester United came back from one goal deficit and stayed alive after Chris Smalling's red card as they beat Crystal Palace by 2-1 in the FA Cup final at Wembley Stadium after extra time. The Red Devils win their first FA Cup since 2004, when they beat Millwall by 3-0. As Wembley was covered with rising rumor this would be Louis van Gaal's last game as Manchester United boss – with the expectations that he will be replaced by Jose Mourinho next week – he has included most spectacular cup of English football to his honours list.
It seemed that Manchester United are on the way to end the season with empty hands and in addition missing out on Champions League football – as they finished the Premier League season at fifth – when substitute Jason Puncheon's strong header gave Crystal Palace lead with 12 minutes remaining. It was severe on United, when Marouane Fellaini and Antony Martial hit the woodwork, however they reacted within four minutes with a splendid run from Wayne Rooney that finished with Juan Mata scoring from close range.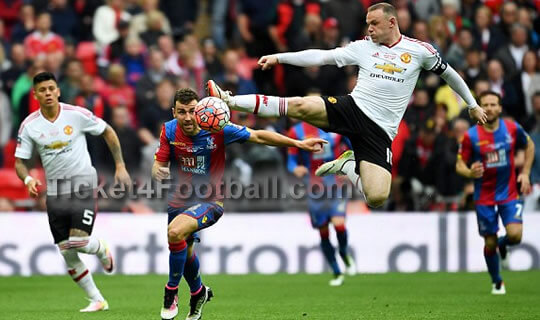 Manchester United's Smalling sent-off on a second yellow card for pulling back Yannick Bolasie in extra time – however Jesse Lingard helped the Old Trafford club to lift the trophy with his first-time strike from Damien Delaney's half-clearance after 110 minutes. All the messages in and around Wembley Stadium before and during this FA Cup final indicated this Wembley masterpiece denoting the end of Van Gaal's unexceptional two-year spell in charge.
At the time when his anticipated replacement with Mourinho is affirmed, the 64-year-old Dutchman can at any rate assume delight and acknowledgment for returning Manchester United on the ways of winning trophy for the first time since the resignation of Sir Alex Ferguson in 2013. And this was another display in a way that has turned into their FA Cup template this season, driving on through times of difficulty to in the long run leave the other side successful, something for which Van Gaal deserves acclaim.