The 2015-16 Champions League Draw happened at Monaco Thursday and the results are already out. Concurrently, clubs like Manchester United and Manchester City announced their fixture dates while the Best Player in Europe Award goes to Lionel Messi.
Announced Draws
For group A, the draws were from teams Paris Saint-Germain, Shakhtar, Real Madrid and Malmo. Group B saw teams Manchester United, Wolfsburg, PSV and CSKA Moscow draw. Group C draws were from teams Atletico Madrid, Astana, Benfica and Galatasaray. In Group D, draws were from teams Manchester City, Borussia Monchengladbach, Juventus and Sevilla. More draws were seen in Group E from teams Roma, Barcelona, BATE and Bayer Leverkusen. For Group F, draws were from teams Arsenal, Dinamo Zagreb, Olympiacos and Bayern Munich. The last two Groups are G and H with teams Porto, Maccabi Tel-Aviv, Dynamo Kiev and Zenite, Gent, Lyon and Valencia respectively. The UEGA Champions League is a premium tournament for football clubs all over the world, organised by UEFA.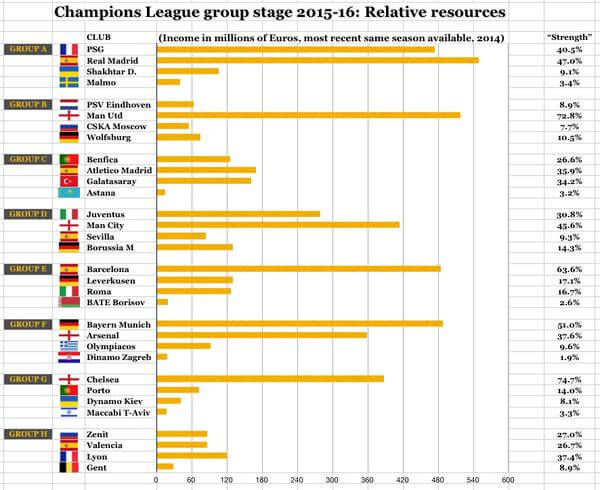 Group A: Paris Saint-Germain, Real Madrid, Shakhtar, Malmo

Group B: PSV, Manchester United, CSKA Moscow, Wolfsburg

Group C: Benfica, Atletico Madrid, Galatasaray, Astana

Group D: Juventus, Manchester City, Sevilla, Borussia Monchengladbach

Group E: Barcelona, Bayer Leverkusen, Roma, BATE

Group F: Bayern Munich, Arsenal, Olympiacos, Dinamo Zagreb

Group G: Chelsea, Porto, Dynamo Kiev, Maccabi Tel-Aviv Group H: Zenit, Valencia, Lyon, Gent

Thanks to mirror.co.uk. Images thanks to mirror.co.uk.